Impress Print Services celebrate at PrintWeek Awards ceremony
Last night, PrintWeek announced Impress WINNERS of  the 'Marketing Campaign of the Year' award.  It was such an honour to make the grade and a  proud moment to be presented with one of PrintWeek's prestigious 'Prisms'!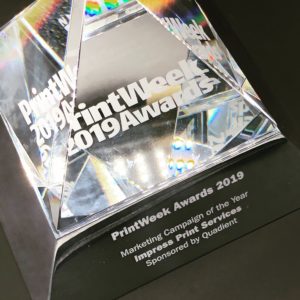 Impress has a marketing campaign strategy with impact, is targeted and emotion based.  As a result it has enhanced brand loyalty, increased client engagement, lead to new business and produced some exciting results.
We would like to say "thank you" to everyone at Impress for their support.  The design, development, print and delivery of these marketing campaigns is a true team effort.
PrintWeek also shortlisted Impress as finalists in two other categories;  Customer Service Team of the Year and Environmental Company of the Year.  This is a fantastic achievement and a testament towards the dedication we have to our customers and the commitment we have made on the environment around us.
We don't stop there… in addition we were awarded winner of 'Sustainability Transparency' and achieved 'Highly Commended for 'Best Company' at The Planet Mark Awards  recently.  Above all, this past week has been a successful one!
Well done, a big cheer for the Impress team.