Environmental integrity & credibility
Impress are proud to be a Carbon Balanced Printer for 6 years.
A Carbon Balanced Printer is one of the highest statements of environmental integrity and credibility for both those purchasing print and those who provide paper based communications.  It confirms that the carbon impacts of the production of a printed item has been calculated and balanced (offset).  Along with Impress' other environmental accreditations this demonstrates excellence in environmental performance across the entire spectrum of the company's operations and services.
Impress have elected to support and work with the World Land Trust Carbon Balance programme. While our ongoing strategy is to reduce carbon, our unavoidable green house gas emissions are offset with World Land Trust through the protection and restoration of carbon-rich wildlife habitats.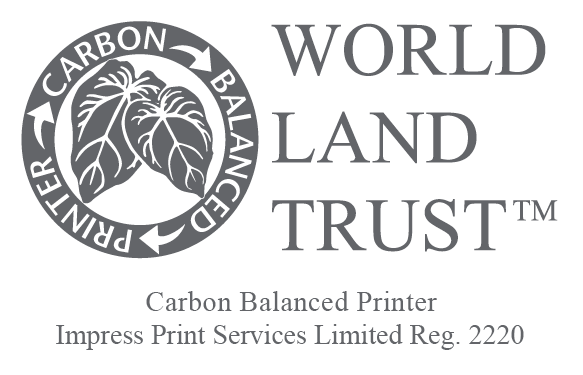 519
Acres of threatened habitat preserved
294
Football pitches of threatened habitat preserved
1,159
Cars being taken off the road for one year
WORLD LAND TRUST
World Land Trust are our partner for Carbon Balancing our unavoidable carbon footprint.  World Land Trust purchase ecologically important standing forests under threat of clearance, these forests lock carbon which would otherwise be released, and then continue to remove carbon dioxide from the atmosphere.
Patrons of World Land Trust are Sir David Attenborough, David Gower OBE and Chris Packham, whose active support has helped to bring the work of the Trust to a wider audience. All patrons passionately support the Trust's work and have a lifelong interest in wildlife and conservation.
World Land Trust work on amazing projects and we are extremely proud to support their invaluable work, to find out more take a look at the video links below.