Recognised for showcasing innovative print solutions
Impress are proud to be announced the WINNER of the PrintWeek 2017 'Marketing Campaign of the Year' Award.  The PrintWeek Awards are the greatest and most sought after awards in the print industry.
On receiving the award, Managing Director, Mike said: "I feel completely blown away for Impress to have won, it's just amazing."
We are committed to going above and beyond requirements and being 'impressive' in everything we do!  To win this award is a real celebration of our teams efforts and comes hot on the heels of another major achievement earlier this year when we won the 'Environmental Printer' Award at Print, Design and Marketing' Awards.  We are delighted.
The British Print Industries Federation (BPiF) are the voice of print and committed to developing excellence, growth and shaping the future of the print industry.  They immediately congratulated Impress on Twitter, "So pleased for BPIF member @weareimpress for winning 'Marketing Campaign of the Year! Very well done!"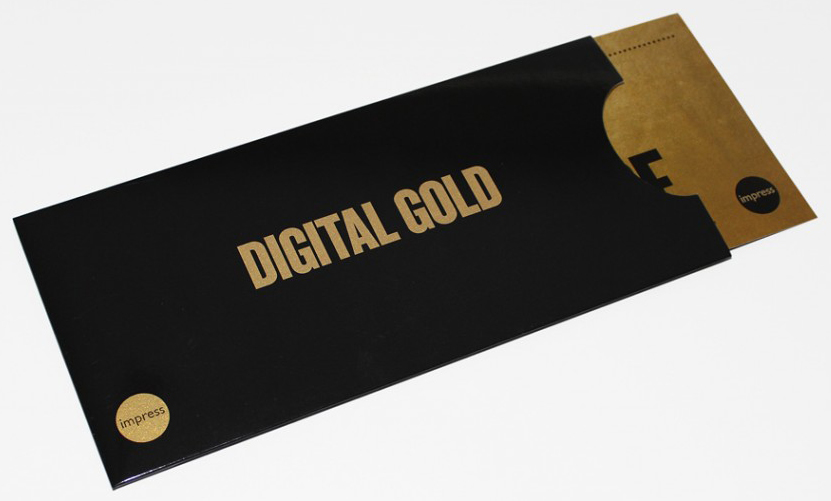 THE IMPRESS DIGITAL GOLD EXPERIENCE
We were really excited about the new digital gold technology and suspected our clients would be too… AND THEY WERE!!!
CAMPAIGN ELEMENTS
We sent a Willy Wonka style invite which invited client's to our website to find out more and obtain a free digital gold print sample.  We also created a series of marketing elements to provide inspiration for what can be achieved with the new technology and carried out a comprehensive online awareness campaign.
Our clients found the swatch books we created really useful, as they helped to show the different gold effects that could be achieved across a range of images and applications.  Clients also found the colour guide reference books which contained a full range of digitally printed metallic colours along with the artwork preparation guides invaluable. They made it so easy to pick colour shades and set up artwork.
We even designed and created a beautiful little DIGITAL GOLD box with a gold tissue insert and chocolate for client meetings.  Fun and yum!
If you would like a copy of any of the marketing elements (even the little boxed chocolate), simply click here and make a request on the contact form.
We are absolutely delighted our clients, both long-term and new, have benefited from the results of our DIGITAL GOLD marketing campaign.  Thanks to everyone – the Impress team and clients alike, for making this campaign so successful.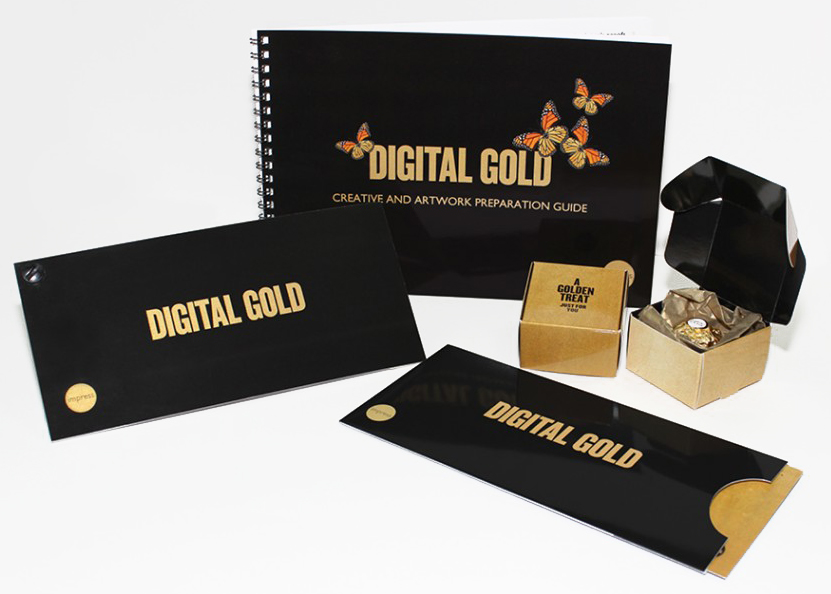 BIG congratulations to the Impress Team
Winners of the 'Marketing Campaign Campaign of the Year' PrintWeek Award