Proud to be presented with our certificate as Surrey's first Carbon Balanced Publication Printer.
The presentation to Directors Mike Kille and Helen Floyd was made by the Deputy Mayor of the Borough of Elmbridge, Councillor Rachael Lake, during a visit to Impress on Friday 1st July 2016.
With the government focused on reducing UK carbon emissions, and climate change, increasingly they are looking to business to reduce their impacts. At Impress, we have been focused on reducing our environmental impacts for many years and the residual carbon emissions our operational activities and balanced (offset) these through the World Land Trust.
The Deputy Mayor said: "So many companies have a vision that they would like to get where you are, but they never quite make it." She described Impress' environmental achievement as 'phenomenal' and also praised us on our contribution to the Borough since we moved to Elmbridge eight years ago.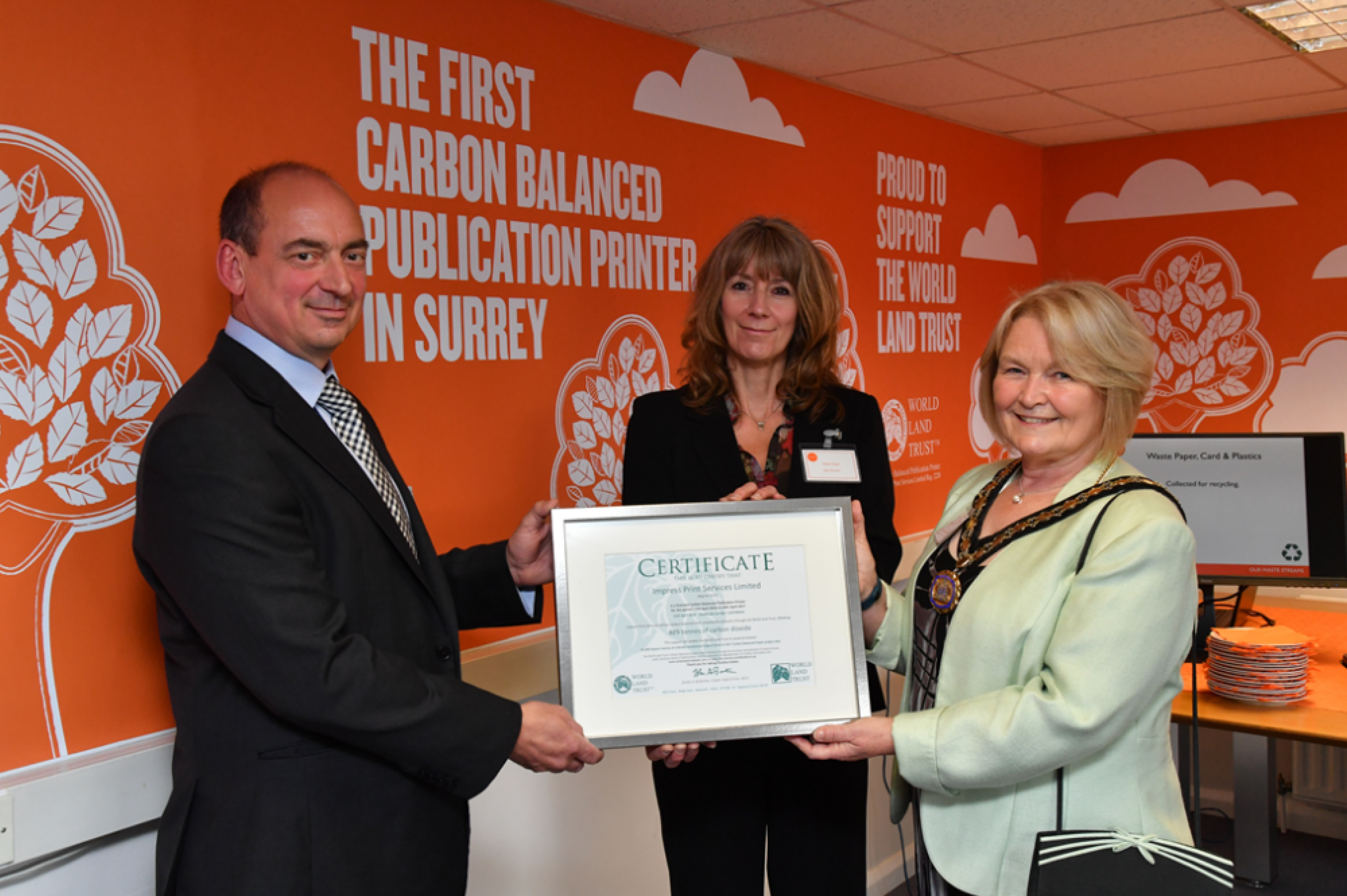 The Deputy Mayor was "in awe and extremely proud" of our achievement and added: "Being the first in Surrey, only two in the South East and 12 in the whole country to have this certificate, the words 'well done' really don't cut it."
We have gone to great lengths to reduce our carbon impacts over the last few years, and are now absolutely delighted to have achieved Carbon Balanced Publication Printer status.  Great news for the environment, and great news for staff, clients and our local community who can rest assured that we always go the extra mile.
The Deputy Mayor  her Consort Mr Ian Lake and local ward Councillor Christine Elmer, were taken on a tour of the Impress lithographic and finishing print facilities followed by the digital and mailing operation…