Did you know that paper is one of the few truly renewable and recyclable raw materials we have?
The 21st March is International Day of Forests, so to celebrate, Impress has created a great little environmentally friendly notebook to give away.
Impress promote the responsible use of paper and print so naturally the notebook has been created on recycled paper, FSC® stock, is CarbonNeutral® and Process Chlorine Free (PCF).  The paper manufacture and production of the book have been produced within the environmental management standards of ISO 14001.
Includes a treat…
The front cover is die cut with a handy 'pop me out' tree bookmark for you to use when you get stuck into your next big read!
Bread from wheat, milk from cows, paper from trees…
Each time you turn a page you will discover more about sustainable print, paper, recycling, the Forest Stewardship Council® (FSC®), and what Impress are doing to support our carbon reduction mission.
Paper has a great environmental story to tell.  This is an industry that depends on a renewable source for its principal raw material, and one that leads the world in recycling.  Not many people are aware of the facts, so this is a little step forward to help our customers and anyone else who is interested.
A notebook for you…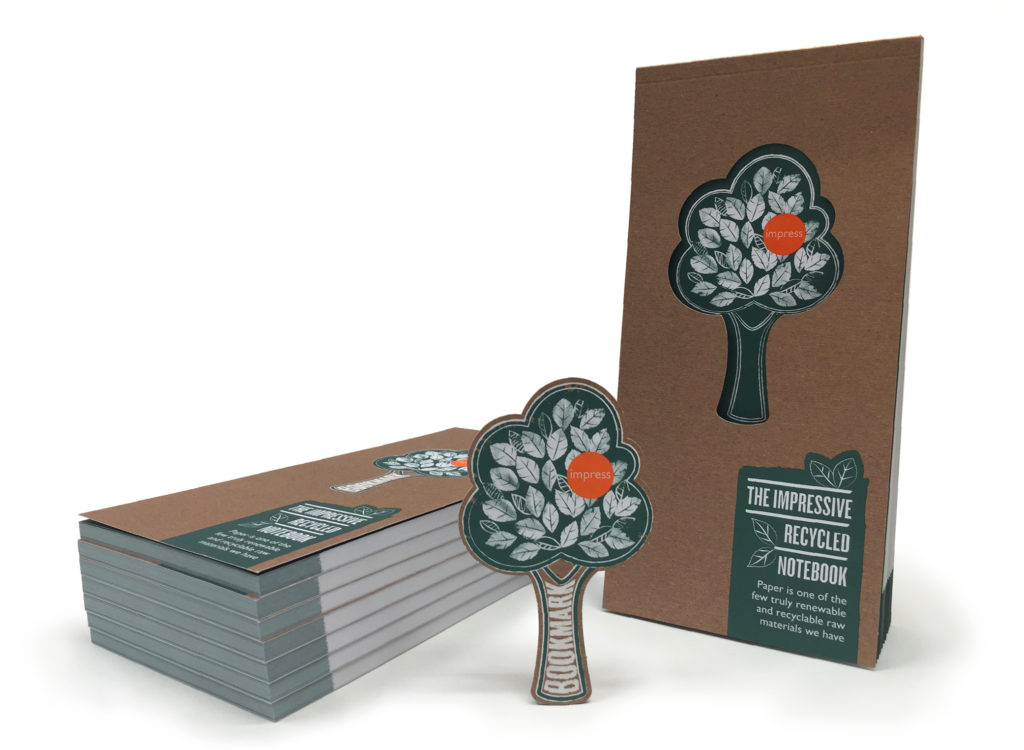 Just send an email to marketing@impressprint.co.uk by 1st April 2016, with your name and postal address, the first 100 names will receive our complimentary notebook free of charge!
If you are interested in reducing your environmental impact and want to find out more about sustainable and environmentally friendly printing, please give us a call, T 01932 236100.