We are just heading off to our local M&S store to drop off our unwanted Christmas Cards in aid of the Woodland Trust.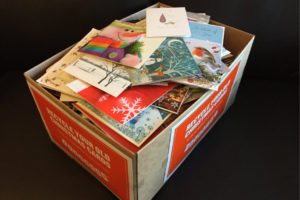 This National Recycling Scheme enables Christmas cards to be collated then transported to a distribution centre where they will be sorted and then taken to paper mills for reprocessing.
Last year a staggering six million cards were collected, resulting in 6,000 trees being planted by the Woodland Trust. This time around, they want to beat this target and plant thousands more trees.
Impress are thrilled that our staff have collected over 650 unwanted cards to donate to the scheme. A big thank you to all those that contributed.  It is great that we can play a role in helping the Woodland Trust to continue vital work in creating new woodland, as well as preserving the habitat of thousands of UK species.
Happy recycling!